Drain Life
Drain Life

Drain Life

Level 13 warlock ability
40 yd range
3% of base mana per sec
Drains life from the target, causing (60% spell power) Shadow damage over 5 sec, and healing you for 500% of the damage done.

Usable by
Class
Properties
Type
School
Cooldown
Other information
Level learned
Related debuff

Drain Life
Suffering (12% of spell power) Shadow damage every 1 seconds. Restoring health to the Warlock.
Duration: 5 seconds
"Tonight, I'll drink to your health—may it long be mine."[1]
Drain Life is a channeled level 13 warlock spell that damages the targeted enemy's health while restoring their own.
Tips and tactics
Background
This appears to be the Life Drain ability that Dark Rangers used in Warcraft III. This ability absorbs the life essence of a target enemy unit and gives it to the Dark Ranger.[2]
Lore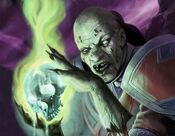 Warlocks could leech life energy and power their own magical abilities.[3] The warlocks' death/mortal coil spell is a variation of the Drain Life spell and is one of the necromantic abilities[4] warlocks share with necromancers.[5]
Draining the life energy of creatures, plants, and people with magic ages them.[6][7][8]
Trivia
Gallery
A satyr draining the life force of a night elf.
Patches and hotfixes
References
External links