Echo of Jaina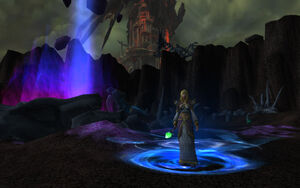 Echo of Jaina is a boss to appear in the End Time instance. Before making the shade of Jaina possible, players will need to find 16 splinters of her broken staff scattered across the Azure Dragonshrine as well as battling her time-twisted allies.
Background
For Jaina's character biography, see Jaina Proudmoore.
Adventure Guide
The tormented fragment of Jaina Proudmoore has been split and infused within the shattered pieces of her staff. To restore balance to the timeways, this echo must be defeated. However, the devastating magical power possessed by the once-proud ruler of Theramore is hardly lost to her time-havocked spectre. In this future Azeroth, she is only divided, and waiting...
Abilities
Strategy
Before battling Jaina herself, your party must collect the 16 pieces of her shattered staff around the shrine. Once this is done, Echo of Jaina becomes available to fight. Note: Clear all patrolling groups around Jaina's general vicinity to avoid accidental pulls.
Tanks should be the only one that Jaina faces for her constant Pyroblasts and melee attacks. After a few seconds, Jaina blinks a few feet away then casts three Frostblades in a frontal cone. Everyone should avoid these blades whenever they are cast.
Immediately after casting Frostblades, Jaina begins bombarding the entire group with 3 consecutive casts of Frostbolt Volley, each of which are interruptable; planning an interrupt rotation in advance can greatly help.
Periodically throughout the entire fight, Jaina casts Flarecore, an orb that lands on the ground in a random location. Whoever is closest to the Flarecore should run to it, taking moderate damage when it explodes on contact. Cores that are not detonated in this manner continue to grow until they explode for heavy group damage. Note: Flarecores do small-radius AoE damage when detonated, so that only the player stomping the core should be near it.
Loot

This section contains information that needs to be cleaned up.
Quotes
Intro

Nozdormu says: This is all that is left of the Blue Dragonshrine. A great battle shattered the timewaves leading out of this forsaken place. You must reconstruct the fragments strewn across the ground and defeat the trapped spirit to proceed.
Echo of Jaina says: I don't know who you are, but I'll defend this shrine with my life. Leave, now, before we come to blows.
Aggro
You asked for it.

I hate resorting to violence.
Frost Blades
Why won't you give up?!

Perhaps this will cool your heads...

A little ice ought to quench the fire in your hearts...
Killing a player
You forced my hand.

I didn't want to do that.

I wish you'd surrendered!
Death

I understand, now. Farewell, and good luck.
Trivia
Patch changes
See also
External links