Eclipse (resource mechanic)
The subject of this article was removed from World of Warcraft in patch 7.0.3.

This includes items and quests that can no longer be obtained or are now deprecated.
The in-game information in this article is kept purely for historical purposes.
For the achievement, see

[

Eclipse

]

.
Eclipse

Eclipse

Level 10 Balance druid ability

Passive

You are inspired by the power of the moon and the sun, causing the damage of your Lunar and Solar spells to be increased by up to 30%, based on how close your Balance Energy level is to the appropriate side.

Usable by
Class
Other information
Level learned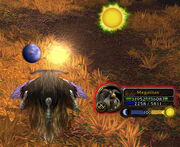 Eclipse is available to all druids who have specced into Balance, and is active while the druid is in caster or Moonkin forms. The druid gains an Eclipse Bar showing his current amount of Lunar or Solar energy; a pointer on the bar indicates which type of energy the druid is currently able to gain.
Improvements
Mechanics
When the bar reaches 100 energy, it will trigger an Eclipse effect, and switch the type of energy the druid is able to gain; Solar and Lunar Eclipses will thus always alternate. The Eclipse effect increases damage done by Nature/Arcane spells; the bonus is increased by the Balance druid mastery,

[Mastery: Total Eclipse].
Lunar Eclipse
Lunar Eclipse benefits all druid abilities that deal Arcane damage:
Solar Eclipse
Solar Eclipse benefits all druid abilities that deal Nature damage:
Patches and hotfixes
External links
Primary resources
Secondary resources
Removed