Everglow Seedling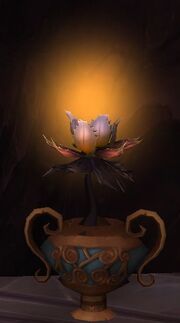 The Everglow Seedling is a potted flower found in Archivist Ionaa's cave in Krokul Hovel in Krokuun.
Most of the flora on Argus has long succumbed to its inevitable demise, though a once-journeyed cavern, whose location was never truly revealed, yielded this magnificent specimen.
Since its arrival, the aura surrounding this mysterious plant has yet to dim below the level of a radiantly glowing crystal, once a prominent fixture among the Argussian landscape, but now only a memory of stories past.
Patch changes
External links