Faithless Dealer
Faithless Dealers are Faithless sethrak located throughout the bottom of the Slithering Gulch in Vol'dun. Many can be seen working at tables and fire pits in the gulch's market stalls; others, however, are instead holding slave markets at [50.4, 33.2]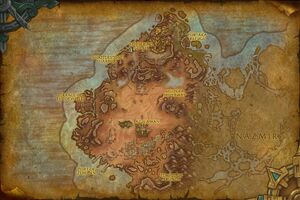 , [52.2, 33.2]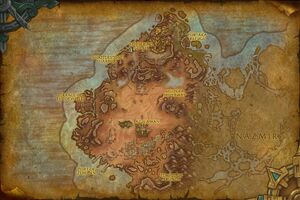 , and [53, 33.4]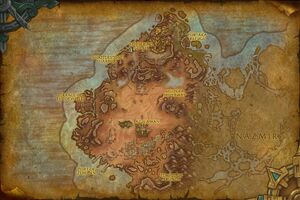 , auctioning off Vulpera Slaves or Tortollan Slaves to groups of Faithless Citizens. If one such Dealer is killed, the slaves will escape to freedom.
Abilities
  Venomous Claws — The caster coats their hands in venom, causing their melee attacks to inflict Nature damage for 8 sec.
  Venomous Spit — The caster spits venom at the target, poisoning them for Nature damage every 3 sec for 9 sec.
Quotes
Out of combat at the Vulpera Slave auction
Any further bids for the vulpera? They will serve you well!

Get your own vulpera here, plenty of energy!

You won't get another chance at a vulpera quite like these!
Out of combat at the Tortollan Slave auctions
Any higher bids? Tortollans freshly captured from their pilgrimage in Nazmir!

Any more bids? Tortollans freshly captured from their pilgrimage in Nazmir!

Come get yourself a tortollan! Keep them alive or use their shell as storage.

I think you want a tortollan, don't you?
Aggro
For the Emperor!

For the glory of the sethrak empire!

Let your death be a lesson to the others!

Like sand, you will be scattered and forgotten!

Our empire's dawn is your extinction!

The sands will swallow you!

We have dominion over all!

We will eradicate you like insects!

You cannot stop the sands from spreading!

You will shatter like glass!

Your lands are next to fall!
Venomous Claws

Faithless Dealer coats their claws with venom!
Death
I failed you... Korthek...

My death will be avenged...

My life... for the empire...

The sands... will spread...

This cannot be...

This is not... the end...

We will not... be stopped...

You have not... won...
Objective of
Gallery
Patch changes
External links
| Normal | Slave auction | Slave auction |
| --- | --- | --- |
| | | |