Farwhisper the Elder
Farwhisper the Elder

Start
End
Level
Type
Category
Reputation

Alliance:

Horde:

Rewards

 [Coin of Ancestry]
Completion
"The heavens, in their countless stars, hold answers to earthly mysteries, <name>. Might, then, the wise, and the lucky, gaze up and find truth?"
Rewards
Location
He can be found in Festival Lane of Stratholme [76.63, 20.21]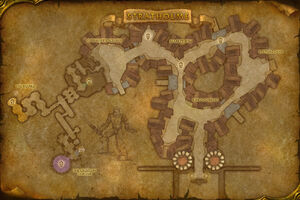 Notes
For higher levels with stealth, you can sneak in and get him. Quickest route to take is via Elders' Square service entrance. Go in open instance portal, open gate, take first left, through the big Archway sneak around the mobs to your right. By then you should have the "!" icon on your mini-map. Found this way much quicker than the front entrance way.
External links