Felsaber (mount)
For lore about felsabers, see Felsaber.
Felsaber

Felsaber

global cooldown
1.5 seconds

cast

Summons and dismisses a rideable Felsaber.

Usable by
Class
Demon hunter
Properties
Type
Utility
School
N/A
Cooldown
Global
Felsaber is a demon hunter ability that allows the demon hunter to summon a felsaber mount. The mount is earned during the quest


 [98] Enter the Illidari: Ashtongue.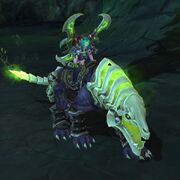 Mount Journal
"A special creation of Lord Illidan gifted to his most trusted Demon Hunters."
Patch changes
External links
Mount family

Dragonkin
Feathermane
Invertebrate
Mammal
Reptile
Other

Specific types

 

Demonic mounts

Infernals
Vilefiends