Female armor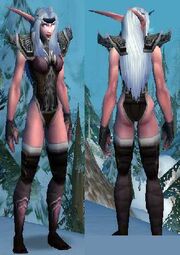 Female armor tends to cover less than does male armor. Many derogatory slang terms exist for armor, plate or otherwise, perceived by the fanbase as as excessively revealing on female character models compared to how they appear applied to male player characters, such as boobplate, slutplate, buttplate, etc. While non-plate items such as

 [Black Mageweave Leggings] ("buttweave") and

 [Robes of Insight] are infamous for similar reasons, boobplate carries an extra stigma of being unconvincing visual protection for the character: midriff and cleavage windows, bare thighs, etc.
The aesthetic is heavily associated with the experimental, sometimes odd visual design of vanilla content, which has been heavily toned down in later expansions. Because of this, many sets such as the Glorious Plate or

 [Warrior's Embrace] are equipable by relatively low-to-medium-level players, but the rarity of these items being encountered at the current speed of leveling content can inflate BoE boobplate to extreme prices on the Auction House , especially with the introduction of transmogging.

Many people see this as mere fanservice. Here are some examples:
Chest items
Leg items
Sets
External links