Feralas storyline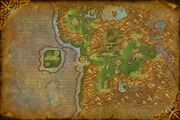 Feralas is a level 35 - 60 zone in southwestern Kalimdor for both the Horde and Alliance. It follows pretty much the same story for both sides, with the Alliance starting at Dreamer's Rest and the Horde going to Camp Ataya. From there, they go to Feathermoon Stronghold and Stonemaul Hold, respectively. For the Horde, they go to their last hub in the zone, Camp Mojache, while the Alliance stops at The Tower of Estulan before meeting up with Adella in Shadebough
Fate of Taerar
An introductiory quest chain, in which the player deals with strange animal sickness.
The Twilight Sermon
In this quest chain, the player deals with Gordunni Ogres, culminating with averting a recruiting attempt by Cho'Gall.
Alliance Version
Horde version
Freed
In this short quest chain, the player helps a ghost of a Highborne pass on. Except not all is as it seems.
Forces of Nature / Weapons of Spirit
In this quest chain the player has to interact with various "forces of nature" to either recruit them (Alliance) or deny them to the enemy (Horde).
Alliance version
Horde version
The Dragons of Nightmare
This quest chain starts with the player dealing with various threats surrounding the camp, before concluding with the continuation of "Fate of Taerar" quest chain.