Fiery Tongue, Fragile Feet
The subject of this article was removed from World of Warcraft in patch 5.4.0.

This includes items and quests that can no longer be obtained or are now deprecated.
The in-game information in this article is kept purely for historical purposes.
Fiery Tongue, Fragile Feet

Start
End
Level
Type
Category
Experience
Reputation
Rewards
Repeatable
Objectives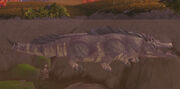 Kill 8 Stillwater Crocodiles.
Description
I was kicking the water for fun again when one of those vicious crocodiles lunged out to try to bite my foot off! Rude! I have proceeded to rest my weary soles a few feet farther from the water, but I already look back on my water-kicking days longingly.
Would you be so kind as to kill a crocodile or eight for me? I assure you they deserve it for frightening me though.
Rewards
Progress
I sense them looming below the surface, carefully planning their next assault on one of my appendages. No manner of glaring at them from a distance is dissuading them, so I really do need you to continue with our previously discussed slightly-more-violent plan, if you wouldn't mind.
Completion
Do you hear that, my beautiful feet? You can rest easy now, your water-kicking days have returned!
You've been oh so lovely, friend. Do share the fruits of your labors and spend a second or two by the water with me someday. We can exchange tales of that one time when you so generously slaughtered a ravaging band of vicious limb-snatching reptiles for the sake of my frightened and innocent feet. What a grand day that was.
Gains
Notes
Crocs are in the lake and down the stream as well.
Progression
Patch changes
External links