Find the Boy
Objectives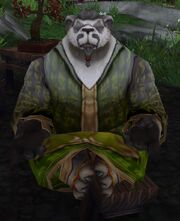 Speak with Inkmaster Wei.
Description
Have you seen my son, Lo? He was here a moment ago and I told him we were leaving today.
I'm sure he's off trying to woo that young Syra Goldendraft. That is the very reason we need to leave!
No son of mine is going to run off with a Goldendraft!
I'm going to search around here for them.
I do keep catching those two sneaking off to the Arboretum. Any chance you could head out there and look for them?
Rewards
Completion
You seek two lovers blind to the ambitions of their family names. They were here, seeking a way to hold to their path.
Sadly they did not find their answers among the trees or art.
Gains
Notes
Head the hill to the Arboretum. Near the main building is Inkmaster Wei, who completes the quest. Nearby, Inkmasters Glenzu and Jo Po also offer quests.
On complete:
Inkmaster Jo Po says: Oh! <Class>! Over here. I could use some assistance if you have a moment.
Progression
After

 [86] Welcome to Dawn's Blossom:
 [86] 

The Threads that Stick

 [86] 

Find the Boy

 [86] 

Shrine of the Dawn

 [86] 

Getting Permission
Patch changes
External links