Fishing for a Bruising
Fishing for a Bruising

Start
End
Level
Type
Category
Reputation
Rewards

+1 Fishing skill
11 40 1

Repeatable
Objectives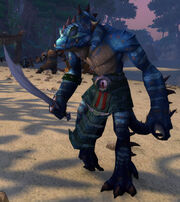 Kill 8 Riverblade Beach Raiders at Anglers Expedition, just west of Anglers Wharf.
Description
The riverblade saurok clan is attacking one of our local fishing expeditions! They need help right away!
Thin those saurok out and help that expedition return safely!
(Riverblade Raider: "Fierce jungle fighters, the Saurok are not to be trifled with.")
Rewards
You will receive: 11

40
1

and one point of Fishing skill
Progress
Any luck with those saurok?
Completion
The expedition is safe. Thank you <name>.
Gains
Notes
Head just to the northwest and start killing raiders.
Progression
Patch changes
External links