Fizzle Darkclaw
Fizzle Darkclaw (formerly Darkstorm) was a level 12 Burning Blade goblin warlock found in Thunder Ridge in Durotar. During the cataclysm, he was killed in the flood from the Southfury River, along with his allies.
Objective of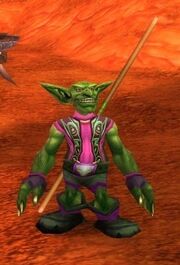 Obtaining his orb is now an objective of  [10] 

Fizzled

.
Before the Shattering, his claw was the objective of  [12] 

Dark Storms

.
Patch changes
Patch 4.0.3a (2010-11-23): His last name was changed from Darkstorm to Darkclaw.

External links