Flame Druid Staff
Flame Druid Staff
"To the untrained eye, this would be indistinguishable from any druid's staff."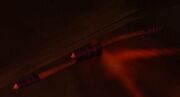 The Flame Druid Staff is one of the magical implements used by the Druids of the Flame, currently being stored in the Igneous Depths in the Firelands. The character is tasked to retrieve one for the quest

 [85 Daily] Fandral's Methods.
Patch changes
External links