Flame of Azzinoth
Main article: Illidan Stormrage (tactics)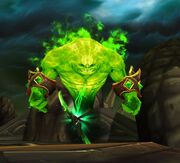 Flames of Azzinoth are part of the Illidan encounter in the Black Temple.
It gives 15 reputation from the Ashtongue Deathsworn.
Abilities
Flame Blast-Deals 7000 to 9000 Fire damage to all enemies in front of the caster.
Uncaged Wrath-Separated from the blade, the spirits of Azzinoth enrage, dealing 500% additional damage and increase their movement speed by 200%.
Patch changes
External links