Fond Farewells
Fond Farewells

Start
End
Level
Category
Experience
Reputation
Rewards
Previous

 [110 - 120] The Perfect Offering
Objectives
Deliver Jorak's Note to B'wizati in Zuldazar.
Description
Dis is where we part ways, <name>.
I'm going to take de name Akunda, and start a new life here.
When you find Rakera, and I know you will, give her my thanks.
She saved my life, and I'm going to make sure to live a life dat was worth saving.
If you find yourself back in de city, could you deliver dis note for me? I trust you not to open it, though I doubt you could read my scrawls anyway.
Rewards
You will receive:
Progress
What is dis?
Completion
<B'wizati reads the note and wipes a tear from her eye.>
He may choose to forget, but I choose to remember, no matter what pain it brings me.
At least he is safe. Loa watch over him.
Notes
B'wizati is located at the Zocalo in Dazar'alor.[54.8, 35.4]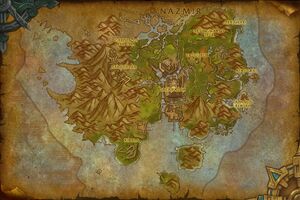 Progression
Patch changes
External links