Fourth and Goal
Objectives
Score the winning goal by kicking the Footbomb through the smokestacks behind the opposing goal.
Footbomb Kicked Through Smokestacks
Description
It's all up to you, kid. You demolished the Steamwheedle Sharks, so now all that's left to do is to kick the winning goal.
Now, just between you and me, I think we should do this one right. I don't want you to just kick a goal... I want you to kick it so far it sails between the two smokestacks behind the goal!
I've modified the footbomb to give you the extra power that you'll need.
Make me proud!
Rewards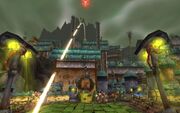 You will also receive: 50

Progress
What are you just standing around here talking to me for? Get out there and win this one for Bilgewater Port!
Completion
Uh... you did it, kid. You REALLY did it! We won the game and...
DID YOU SEE THAT DRAGON?!!!
Notes
This quest is automatically offered upon the completion of



 [3] Necessary Roughness.
On accept:
Kick the Footbomb between the smokestacks up and behind the opposing goal!
Upon kicking the ball through the smokestacks:
Deathwing flies into frame toward Mount Kajaro!
Deathwing yells: The sun has set on this mortal world, fools. Make peace with your end, for the hour of twilight falls!
Deathwing attacks Mount Kajaro, setting it alight, then circles back around to the field before flying out of frame

What did that dragon do to Mount Kajaro?!!!

Ace says: What was that thing, toots?
Izzy says: Why's the ground shaking, <name>?
Trivia
In early beta-testing for the Cataclysm expansion, the Footbomb itself triggered the volcano's eruption when it was kicked so far as to plunge directly into the crater, making the player directly responsible for the destruction of Kezan. It was later changed to make Deathwing the culprit, befitting his status as the ultimate enemy of the Cataclysm storyline.
Progression
Patch changes
External links