Free Freewind Post (Horde)
Objectives
Speak with Thalia Amberhide at Freewind Post in Thousand Needles.
Description
Well, it looks like it's time for us to part ways, at least for a while. To the northwest, the tauren of Freewind Post are in desparate need of your assistance in pushing back the Grimtotem clan!
You know, you've been such a great help around here, I bet you're going to be their <hero/heroine> in no-time!
Completion
I am honored that you have come to help, <class>. It was kind of Pozzik to send you.
Notes
Head to the northwest. At [46.4, 57.9]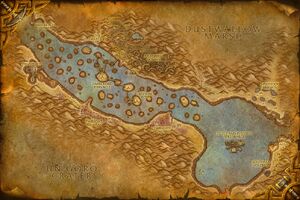 on the south side of the needle south of Freewind is Quentin, Thalia and a neutral repair vendor.
Progression
Patch changes
External links