Fresh Pots
Objectives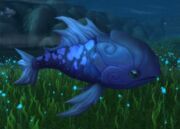 Kill Sea Monarchs and use their meat to bait Empty Crab Pots in the Shelf of Mazu.
Description
We got a load of empty crab pots out there that need fresh bait.
Now, we COULD pull them one at a time and bait them up here in comfort. A nice chair to sit on, maybe a hot cup of tea to keep you warm. Sounds nice, doesn't it?
Never gonna happen.
Head to Lonesome Cove, immediately southwest, and bait those pots with fresh sea monarchs. By "fresh" I mean killed right there in the water.
Oh, and by "pots" I mean traps. If you wanna be part of the crew, you'd better learn the lingo.
Rewards
You will also receive:
Progress
What's wrong, green? You aren't afraid of the dark, icy sea are you?
Completion
Not bad, green, not bad.
Notes
Pick up

 [90] You Otter Know before heading out.
Head out in the water, east to the Lonesome Cove. Kill neutral Sea Monarchs for their
 [Sea Monarch Chunks] and use them to bait the Empty Crab Pots. Avoid the Dreadmaw Groupers.
Progression
Optional breadcrumb:

 [90] Gambling Problem
Patch changes
External links