Fu Zan, the Wanderer's Companion
"Fu Zan" redirects here. For the tree, see Fu Zan (tree).
Fu Zan, the Wanderer's Companion
Item Level

152

Staff
Speed 3.60
86 – 117 Damage
(28.2 damage per second)
+37 Agility
+56 Stamina
+25 Haste
+25 Mastery
Equip: Grants the Flaming Keg ability, which does exactly what you think it will do.
"From the beginning, this staff has accompanied legendary creatures and immortal spirits as they carried out important, lasting work all across Azeroth."
Fu Zan, the Wanderer's Companion is the artifact used by brewmaster monks in World of Warcraft: Legion.
Description
Long ago, as the titanic watcher Keeper Freya set out to populate the world with life, she placed one of the first seeds in Pandaria. From it grew Fu Zan, the first, and all of Pandaria's forests descended from it. Before populating the rest of Azeroth, Freya fashioned a walking stick for her travels from one of Fu Zan's branches. Eventually Freya passed her staff to the Jade Serpent, Yu'lon, who later gave it to a uniquely clever hozen. The Monkey King, as he was called, hung his most prized possessions from the staff, which he carries with him to this day.[1]
Source
This item is a quest reward from


 [98 - 110] The Trial at the Temple.
Artifact traits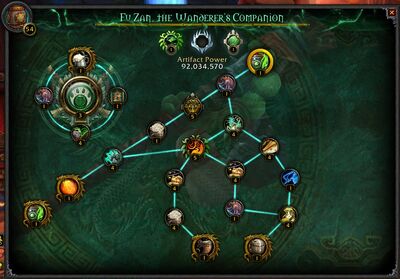 Base
Hidden trait: Unknown
Empowered
Appearances
Classic
Achievement:

[Fighting with Style: Classic]
This is the default appearance
Recover one of the Pillars of Creation
Recover  

[

Light's Heart

]


 [100 - 110] 

Light's Charge

Complete the first major Campaign effort with your order
  [103 - 110] 

Rebuilding the Order
Upgraded: The Monkey King's Burden
Achievement:

[Fighting with Style: Upgraded]
Valorous: Heart of the Ox
Achievement:

[Fighting with Style: Valorous]
War-torn: Dragonfire's Grasp
Achievement:


[Fighting with Style: War-torn]/


[Fighting with Style: War-torn]
Challenging: Bearer of the Mist
Achievement:

[Fighting with Style: Challenging]
| | | | |
| --- | --- | --- | --- |
| | | | |
| Complete the The Highlord's Return questline | Defeat Heroic Kiljaeden after unlocking a Challenge artifact appearance | Win 10 rated battlegrounds after unlocking a Challenge artifact appearance | Defeat all Legion dungeon bosses after unlocking a challenge artifact appearance |
Hidden: Ancient Brewkeeper
Achievement:

[Fighting with Style: Hidden]
Acquire  

[

Legend of the Monkey King

]

Complete 30 Legion dungeons after unlocking a Hidden artifact appearance
Complete 200 World Quests after unlocking a Hidden artifact appearance
Kill 1,000 enemy players after unlocking a Hidden artifact appearance
Videos
Patch changes
See also
References
External links