Getting the Crew Back Together
Objectives
Revive 6 Injured Crewmen. You can also use healing spells or bandages to revive them.
Description
Oh wow, the debris is all over the mountainside! The survivors won't make it if we don't do something quick. They need healing NOW!
Here, take my bandages and go patch them up or just use whatever you have on hand to get them healed.
Rewards
Progress
Did you rescue everyone you could?
Completion
Good work, <name>. Once Gazwitz gets his team up here we can get the crewmen back to the Gearworks.
On complete
Moter Lode Crewman says: Miss Kimzee, before we crashed we saw one survivor. I think it might be your uncle.
Kimzee Pinchwhistle says: Uncle Krixel!? Get outta the way, I gotta rescue him!
Kimzee hops in her hotrod and peels out, leaning on the horn the whole way.
Gains
Notes
Pick up

 [97] Clearing Out before Cleaning Up before heading out.
Head downhill and start patching up injured crewmen and killing wasps. At [59.6, 81.3]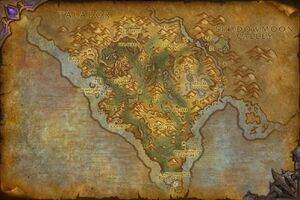 below deck in the forward part of the hull on the west side of the road, find the Spray-O-Matic 5000 XT.
Progression
 [97] 

Pinchwhistle Gearworks

(optional breadcrumb)
Complete all of:
 [97] 

The Mother Lode

Complete both:

 [97] 

Getting the Crew Back Together

 [97] 

Follow that Hotrod!

Complete all of:
Complete all of:
 [97] 

Flame On

 [96] 

Kimzee Pinchwhistle
Patch changes
External links