As part of the Unified Community Platform project, your wiki will be migrated to the new platform in the next few weeks. Read more here.
Glowing Cat Figurine
Glowing Cat Figurine
Use: Summons a Ghost Saber to fight for you for 10 min.
1 Charge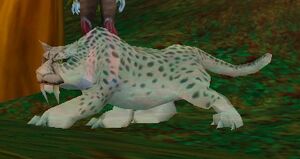 A Glowing Cat Figurine will summon a Ghost Saber cat to fight with you. This cat is not controllable like a hunter's pet but will assist you when you are attacked.
Source
This item drops from Ghost Sabers in Darkshore. Ghost Sabers will sometimes appear when you loot small Cat Statues in the Ruins of Mathystra.
External links