Gnomish Universal Remote
Gnomish Universal Remote
Item Level

25

Use: Allows control of a mechanical target for a short time. It may not always work and may just root the machine or make it very very angry. Gnomish engineering at its finest.
Requires Engineering (125)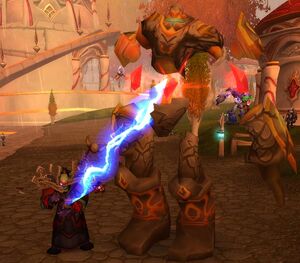 Gnomish Universal Remote has a chance to allow the user to control a mechanical mob for 60 seconds. If it fails it either stuns the target for a short amount of time or causes a high amount of threat. It is similar to

[Mind Control], although it's limited to Mechanical Targets.
Background
This small bronze contraption bears numerous knobs, dials, pointers, winding thinkings and whirring gizmos. A competent user can take control of constructs, both mechanical and magical, from a distance - if he's lucky. Even the gnomes aren't sure why this collection of bronze, oils, and semiprecious stones works. Gnomish engineering at its finest.[1]
Source
This item is created with Engineering (125); taught by

 [Schematic: Gnomish Universal Remote].
Notes
Patches and hotfixes
Hotfix (2007-02-20): "

Mechanical bosses are now immune to the Gnomish Universal Remote.

"

Patch 2.0.3 (2007-01-09): Added.

References
External links