Going Undercover
Objectives
Speak to Sylene at Twilight Glade to gain an orc illusion, then plant explosives at key locations in Shaz'gul.
If you lose your disguise, use Sylene's Amulet of Illusion to regain an orc appearance.
Description
Yrel leads my rangers on a search for the prisoners at the Shadowmoon village.
Their work is extremely dangerous, so I need you to carry out a contingency mission.
Sylene has mastered an illusion spell which will allow you to infiltrate Shaz'gul safely. Speak to her to disguise yourself.
Then, plant explosives at the quartermaster's depot, the main lodge, and the ritual altar.
In case anything goes wrong, set them off to create a distraction.
Rewards
Progress
Shaz'gul is well guarded, so finding the prisoners is a challenge. Be careful.
The illusion should hold until your work is done.
Magic is fickle, however!
Take my Amulet of Illusion. If you lose your orc appearance while at Shaz'gul, simply use the amulet.
Be careful of the wolves that patrol Shaz'gul. Unlike eyes, their noses will not be fooled.

 I need a Shadowmoon orc illusion.
Reach Yrel after planting all the explosives:
Commander Vorka says: Your security is lax, Chieftain. I caught these Rangari spies within your gates.
Ner'zhul says: They are too late. The prisoners are already on their way to Anguish Fortress.
Ner'zhul says: Their blood will summon forth the Dark Star, and make me as a God among the Iron Horde!
Vorka kills the two Rangari.
Commander Vorka says: The Warchief honors deeds, not words, shadowcaster.
Vorka walks away.
Commander Vorka says: Just be ready when our ships arrive at Karabor.
Completion
You made it, <name>! Boy, am I glad to see you.
Gains
Notes
Before getting started on this quest, pick up and complete

 [91] The Clarity Elixir,

 [91] Loola's Lost Love, and

 [91] A Grandmother's Remedy in the Nightmarsh, and pick up and complete

 [91] The Fate of Karabor.
Once done with the side quest, find Sylene just to the northeast.
Head west into Shaz'gul and look for the buildings marked on the minimap. Steer clear of the void wolves! Talk to all of the now-friendly orcs, as nearly all of them have some interesting gossip text.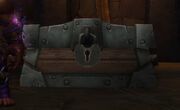 In the Supply Hut, loot the Iron Horde Tribute for the

 [Tiny Iron Star] and 10-20x

[Garrison Resources]. Plant the bomb on the left side of the room near some crates. Head south to the main lodge and plant the bombs on the right stairs (from the perspective of the front door). Head east to the chieftain's seat and plant the bombs behind the big rock. Head south to the training pit and place the bomb behind the pike rack.
Finally, head west-northwest past the pond to find Yrel hiding in a bush.
Progression
 [91] 

Into Twilight

Complete both:

 [91] 

The Clarity Elixir

 [91] 

The Fate of Karabor

 [91] 

Going Undercover

 [91] 

Escape From Shaz'gul

 [91] 

Chasing Shadows

 [91] 

Ancestor's Memory

 [91] 

Darkest Night

Side quest:  [91] 

Rulkan

(optional)

Complete all of:

 [91] 

Into Anguish
Patch changes
External links