Grave Robbin'
Objectives
Look for the rumored treasure in the Soul Ruins.
Description
I am not a grave robber, but is it technically grave robbing if the treasure is sitting on a field of bones? It's not like it's buried or nothin'. I'm just gonna sit this one out, just in case.
Rewards
Progress
I'm always lookin' for more treasure!
Completion
You found a key in a chest? Nothing else?
I'm guessing the last guy took all the goods, then accidentally locked the key in the chest. So, you just found a key to a chest that you've already looted. Fantastic work... And people say I suck at this job.
Complete:
Excavator Karla says: Come back later. I might have another job for you.
Gains
Notes
The Dusty Treasure Chest [49.7, 46.7]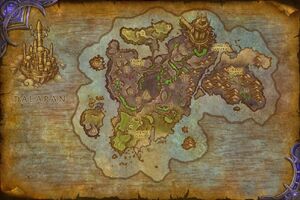 is inside the crashed Legion ship.
You find the chest, but Treasure Master Iks'reeged has beaten you to it again.
Treasure Master Iks'reeged says: You again? You can't have my treasure!
The demon runs off. All that's left is  

[

Promising Treasure Key

]

.
Progression
 [110] 

Spiders, Huh?

 [110] 

Grave Robbin'

 [110] 

Tomb Raidering

 [110] 

Ship Graveyard

 [110] 

We're Treasure Hunters

 [110] 

The Motherlode
Patch changes
External links