Growing the Farm II: Knock on Wood
Growing the Farm II: Knock on Wood




Waxed planks in the water

Start
Fish Fellreed [41.7, 30.0]
End
Fish Fellreed [41.7, 30.0]
Level
90 (Requires 90)
Category
Valley of the Four Winds
Experience
236000
Reputation
+500 The Tillers
Rewards
19 84 50
Previous
 [90] 

Growing the Farm II: The Broken Wagon

Next
 [90] 

"Thunder King" Pest Repellers
Objectives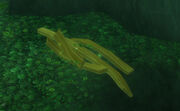 Collect 100 Waxed Planks.
Description
Sure! I know just the wagon that you're talkin' about!
I can fix it right up, but I'll need wood.
There's a whole lot of it down at the bottom of the lake. If you fish it right out - haha, get it? Fish? Oh I just crack myself up sometimes.
Anyway, you bring me here some 'o that wood and then I'll get right to work!
Rewards
Progress
That lake is plum full o' treasures! You just gotta know what to look for.
Completion
Aww yeah, this wood'll do jus' fine. You did good, <name>.
Gains
Notes
Jump in, head to the bottom, and kill Cattail Crab guarding the piles of lumber.
On complete:
Fish Fellreed says: I'll collect my tools and meet you at Farmer Yoon's. Bet I can beat you there!
True to her word, she'll be at Sunsong Ranch first. Find her inside the old cart, banging away at it. She'll toss up a 15-minute tracking buff. Once it expires, that part of the land will clear and she will increase the amount of plots up to 12.
Progression
Patch changes
External links