Halberd of Smiting
The subject of this article was removed from World of Warcraft in patch 4.0.3a.

This includes items and quests that can no longer be obtained or are now deprecated.
The in-game information in this article is kept purely for historical purposes.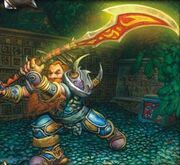 Halberd of Smiting is a polearm with a big damage proc.
Source
This item drops from Bloodlord Mandokir in Zul'Gurub with an estimated drop rate of 6%.
Notes
The proc is very low (about 0.3 procs per minute).
Although the proc rate is low, the chance of proc being a critical hit is quite high and this weapon has the potential of 1-shot low hp players with its scary critical proc.
Patch changes
Patch 4.0.3a (2010-11-23): No longer obtainable.

Patch 1.9.0 (2006-01-03): The proc ability of the Halberd of Smiting can no longer cause another proc.

Patch 1.7.0 (2005-09-13): Added.

See also
External links