Halls of Flesh-Shaping (subzone)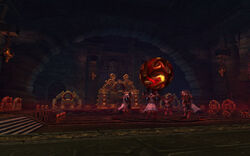 The Halls of Flesh-Shaping is an underground area beneath the Throne of Thunder running alongside the sewer system. The halls comprise of the Watcher's Sanctum, Saurok Creation Pit, and the large room where the Dark Animus is held.
The hall leads to the Sewer Access Point, the actual entrance into the sewers from the main complex.
Inhabitants
Patch changes