Headhunter Jo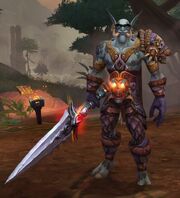 Headhunter Jo is a Zandalari troll located in Zuldazar. After an adventurer and Hemet Nesingwary arrived to Zuldazar, he used Hemet as a bait at Headhunter Lodge to hunt them.
Abilities
Enraged
Steel Bite
Throw Trap
He also has a Shadowstep-like ability.
Objective of
Quotes
Dialogue

Main article: Headhunter Jo (quest)#Notes
Gossip
Ya be a brave sort to be comin' out here for da Great Hunt. Ah tink dis gonna be an interestin' day, ya?
Notes
Initially, he didn't have the cap on his head.
Patch changes
External links