As part of the Unified Community Platform project, your wiki will be migrated to the new platform in the next few weeks. Read more here.
Heart of Darkness (Nazmir)
For other uses, see Heart of Darkness (disambiguation).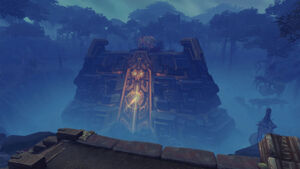 The Heart of Darkness is the exterior of the Uldir facility in Nazmir. The roof where Taloc rests is accessed by going across Takulu Bridge in the blood troll village of Koramar. The lower area is surrounded by the Altar of Rot.