Heinous Sacrifice (Horde)
Heinous Sacrifice

Start
End
Level
Type
Category
Experience
Reputation
Rewards
Repeatable
Objectives
Destroy the Zandalari sacrificial altars.
Cha'lat's Altar destroyed
Tec'uat's Altar destroyed
Pa'chek's Altar destroyed
Description
The Zandalari perform heinous rites against our people! They must be stopped! Delve into the heart of the Za'Tual and destroy their altars.
Rewards
Progress
I realize what I ask you to do is dangerous, but it is necessary.
Completion
I could feel the magic of their altars dissipating even here, <class>.
Gains
Notes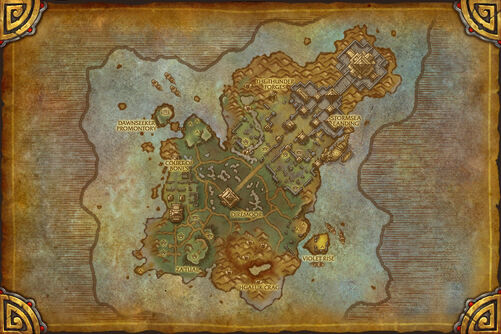 Progression
Stage 2: Assaulting the Zandalari fortifications

Three hubs including Stage 1 areas (11 quests) plus one Stage 1 boss quest

Diremoor
Stage 4: Breaking into Stormsea Landing
Five quests from Stages 1/2 (+one Stage 1 boss), then three quests from one Stage 3 hub, then two Stage 4 quests
 [90 Daily] 

Maximum Capacitor

/  [90 Daily] 

Save Our Scouts!

 [90 Daily] 

Forge Ahead!
Stage 5: The Final Gate
All quests listed in Stage 4, then one of:
Patch changes
External links