Hekima the Wise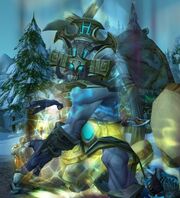 Hekima the Wise is a Zandalari troll priest of the Zandalar tribe located at the Shimmer Ridge in Dun Morogh during the Blood in the Snow scenario. He recruited the Frostmane tribe to the Zandalar tribe's futile efforts to create another grand Troll empire before being killed by the combined forces of King Varian Wrynn and Queen Moira Thaurissan.
Objective of
Abilities
Quotes
Beginning final stage

You may have stopped the storm, but you cannot stop the will of Zandalar! You will DIE, here... ALL OF YOU!
75%

Trolls of the world will unite against you!
50%

We control the sand, the seas, the winds...
25%

We will bury you in your mountain!
Killed a Player

Bleed, in the snow!
Death

There... will be more! Zandalar... will never fall...
Trivia
He's voiced by Earl Boen.
The name Hekima is a reference to the Arabic word "حكيم" (Pronounced: Ha-Keem) which translates to ''Wise"
Patch changes
External links