Hellfire Citadel (alternate universe)
For the The Burning Crusade citadel dungeon hub, see Hellfire Citadel.
Hellfire Citadel
HC, HFC

Location
Race(s)
End boss
Instance info
Type
Advised level
Minimum average
item level
Player limit
Hellfire Citadel is a raid instance introduced in patch 6.2.0, and the final one of Warlords of Draenor.[1] It features 13 bosses, with Archimonde being the last one. It is the stronghold of the Iron Horde, now corrupted by Gul'dan and the Burning Legion.
Background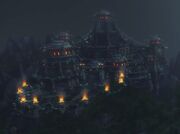 Hellfire Citadel was the seat of power for the Iron Horde and its vast armies. However, during a display of power by Gul'dan to Grommash Hellscream, Gul'dan corrupted Tanaan Jungle by unleashing the Felblight, and impaled the highest tower of the citadel with massive stone pillars. Gul'dan then began to use the Citadel as the capital of his Shadow Council and the now corrupted remnants of the Iron Horde, as well as the Burning Legion on Draenor. The forces of the Legion were supported by the Sargerei draenei and Sethekk arakkoa.
Not long after its corruption, Hellfire Citadel was attacked by invading Alliance and Horde forces. The invaders advanced into the citadel, defeating most of its inhabitants, including Archimonde. The fortress's current status is unknown.
Dungeon Journal
When Garrosh encouraged Grommash to begin construction of this massive stronghold at the heart of Tanaan Jungle, to serve as a staging ground for the assault of Azeroth, he even suggested the name Hellfire, pulled from a different time and a different land. He dreamed of seeing mighty orcish iron towering over an unblighted landscape, so very different from the wasteland he had known in Outland. But even as times change, so too do they stay the same.
Encounters
Hellbreach
Before the gates of Hellfire Citadel, fel-infused siege engines and monstrous beasts stand ready for an assault on Azeroth.
Halls of Blood
Kilrogg was the first to accept Gul'dan's twisted offer, but many orcs followed. Bloodthirsty and savage, they await in these halls.
Bastion of Shadows
With Gul'dan's ascent to power, the Sargerei and other members of the Shadow Council now work openly in service of the Legion.
Destructor's Rise
Atop the spires of the Citadel, demonic champions ready themselves, as Gul'dan begins a dark ritual...
The Black Gate
On the grounds of the ruined Dark Portal, Archimonde himself comes forth to ensure that the Legion's plans do not fail.
Opening dates
Getting there
The quickest way to get there is by taking the portal to Lion's Watch/Vol'mar located in Stormshield/Warspear at Ashran. The portal only exists once the player has completed the introductory quests for Tanaan Jungle.
The nearest Ogre Waygate is at [53.45, 58.13]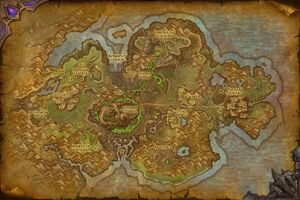 in Thundertail Wallow, just west of Lion's Watch.
Maps and subregions
Maps
Denizens
Bosses
Monsters
NPCs

The Iron Bulwark

Hellfire Antechamber

Hellfire Passage

Pits of Mannoroth

Court of Blood

Grommash's Torment

The Felborne Breach

Halls of the Sargerei

Destructor's Rise

The Black Gate
Achievements
Loot
Hellfire Citadel loot start at 690 item level for Normal mode, with an increase of 15 item levels for each increase in raid difficulty. Raid Finder Loot start at item level 675. Unlike previous raid instances, Hellfire Citadel loot vary on item level based on how far progression into the instance is. Earlier bosses have gear that is equal to the starting item level noted previously. Middle bosses have loot 5 item levels higher than starting. Late bosses have loot 10 item levels higher than starting. The final boss, Archimonde, have loot 15 item levels higher than starting. Each piece of loot have a chance to have a gem socket, a bonus stat, or be Warforged for 6 more item levels.
Notes and trivia
A sayaad and Shao'ghun can be seen playing golf together with draenei prisoners before reaching Grommash Hellscream.
Hellfire Citadel is the first time the final raid of a World of Warcraft game (original and expansions) does not contain a dragon encounter.
Patches and hotfixes
Patch 6.2.3 (2015-11-17): Cross-Realm raiding has been enabled for Mythic difficulty.

Hotfix (2015-06-26): "

Increased the number of set pieces that drop from set bosses in Hellfire Citadel on Normal and Heroic difficulty. This affects both personal loot and group loot.

"

Patch 6.2.0 (2015-06-23): Added.

References
External links
Guides

Icy Veins
 Comprehensive encounter guides for Hellfire Citadel