High Commander Goodchilde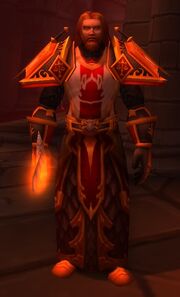 High Commander Michael Goodchilde is a human located at the Crusader's Chapel in the Scarlet Monastery. After the death of Sally Whitemane, Goodchilde took the remaining scarlet crusaders under his wing. He is described as a zealot, murderer, and a hardened knight who has dedicated his life to the eradication the undead.
He fell in battle against the Deathlord of the Ebon Blade, who sought to revive Whitemane as a horsewoman during the Burning Legion's third invasion of Azeroth.
Objective of
Abilities
  Consecration — Consecrates the land beneath the caster, dealing Holy damage over 8 sec to enemies who enter the area.
Quotes

This section contains information from the World of Warcraft Trading Card Game and is considered non-canon.
The Light will unite the righteous to strike down the wicked[2]
Know that your sacrifice will bring me great glory this day[3]
You stand in judgement before the Light!
Our cause is just. Nothing will stand in our way.
"The Light is quickest when the situation is most dire."[4]
Legion

This section concerns content related to Legion.
By the power of the Light I will banish you, scourge!

My faith... has forsaken me?
Trivia
Goodchilde first appeared in the TCG arts as an Alliance hero Commander Michael Goodchilde and Crusader Michael Goodchilde respectively.[5][6]
Goodchilde is voiced by Jason Miller.[7]
Relatives
| | |
| --- | --- |
| | This section includes speculation on characters that might be related, usually because they may share a last name. It should not be taken as representing official lore. |
He may be related to Hailey Goodchilde, Aaron Goodchilde and Martin Goodchilde.
Patch changes
References
External links