I Have a Bad Feeling About This
Objectives
Investigate Navarrogg's suspicions.
Investigate the Bloodtotem
Description
You have no reason to trust me. My cousins led by Dargrul have gone mad with power.
But I ask you to investigate something. I have a feeling something terrible is about to befall Highmountain, and that Torok and his Bloodtotem are going to be responsible.
If you don't believe me, look for yourself at the northern side of Cliff's Edge.
Rewards
You will receive: 15

40
(at level 100)
Completion
<The cage is empty. Navarrogg is gone.>
Gains
Notes
Head to [39.00, 34.83]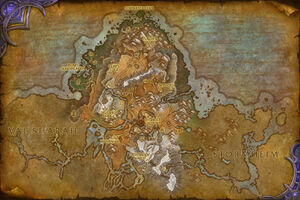 to find three tauren laying dead around a table with a cup of fel liquid. Upon clicking on the cup, a Bloodtotem Warmonger rushes out of the nearby building and knocks you back, yelling:
Get away from that, outsider!
Progression
Patch changes
External links