Improvised Ammunition
Objectives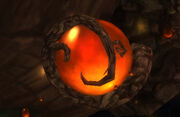 Recover 16 Volatile Dread Orbs from the Ambermarsh.
Description
I've got another job for you.
The dragon cannons we depend on to keep the thicker swathes of mantid back are running low on ammo. The camp's cannoneers developed an improvised explosive that's made from the globe seeds down the western ridge.
They dispatched a couple initiates to bring some back hours ago, but have heard nothing from them. I want to send someone a bit more capable to make sure that this gets taken care of.
Are you my <man/woman> for this?
Rewards
You will receive: 11

Progress
Back even more quickly than expected. Did you bring the seeds?
Completion
It's good to have a <class> that I can count on.
Gains
Notes
Head southwest toward the Ambermarsh. Before actually getting there, however, Initiates Feng and Chao offer

 [89] Thieves and Troublemakers and

 [89] In the Wrong Hands. Pick them up before descending into the marsh.
Start killing sprites. They stand a chance of dropping orbs, but they mainly can be found near the big amber orbs on trees around the pools. To find the sword, head west out of the main pools area. Needlebottom can be found in a large depression at the west end of the marsh. He does count for Thieves and Troublemakers, too.
Progression
Optional breadcrumb:

 [89] Gao-Ran Battlefront
Patch changes
External links