In Enemy Hands
The subject of this article was removed from World of Warcraft in patch 5.4.0.

This includes items and quests that can no longer be obtained or are now deprecated.
The in-game information in this article is kept purely for historical purposes.
In Enemy Hands

Start
End
Level
Type
Category
Experience
Reputation
Rewards
Repeatable
Objectives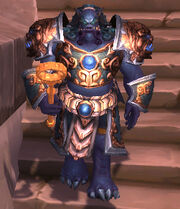 Beat 6 Possessed Whitepetal Defenders until they're freed of mogu possession.
Dominated Defenders rescued x8
Description
The Shao-Tien Mindbenders have taken over the minds of our defenders down at Whitepetal Lake to the west. Get down there and kill the mogu that are controlling them, but don't kill the defenders! Killing their captors should free them from their mind control.
Sooner would be better. Anji might try to go down there to help soon, and her ability to restrain herself when in the heat of things is not one of the qualities I married her for.
Rewards
Progress
Or you could dispel them if that's your thing. You seemed like the type that might want to beat some people up, though.
Completion
More than one pandaren is thankful for your help today, that's for sure.
Gains
Notes
The mogu controlling the defender has to be killed, without also killing the defender. If the player has an ability (such as

[Purge]) to dispel the mind control buff on the defender, however, it can be used and still receive quest credit.
Progression
Patch changes
External links