Iron Boot Flask
Iron Boot Flask
Toy
Use: Adds this toy to your Toy Box.

Assume the form of an Iron Dwarf for 10 min. (1 Hr Cooldown)
"It has a metallic taste..."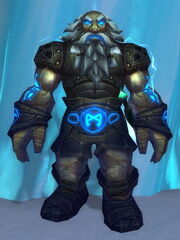 Iron Boot Flask turns the player character into an Iron Dwarf for 10 minutes. If attacked while transformed, it has a chance to proc Electric Discharge, which hits attackers for slight nature damage; this can happen at any level.
Source
Rork Sharpchin in Storm Peaks for 10 after completing the quest  [78] 

Ancient Relics

Olut Alegut in Storm Peaks for 10 after completing the quest  [78] 

Ancient Relics
Related achievements
Trivia
Patch changes
External links
Non consumed player-transforming items

Vendor

 

[

Iron Boot Flask

]

Drops
Treasure
Quests
Profession
Event
Other