Isiset
Isiset, Construct of Magic, is a boss of the Halls of Origination in World of Warcraft: Cataclysm.
Background
Isiset along with the other constructs were created to protect the powerful device capable of resetting all life on Azeroth. Her sphere of influence is magic.
This section concerns content related to Battle for Azeroth.
In the early stages of the Fourth War, High Commander Kamses confirmed that Rajh and the other keepers were dead.[1] After N'Zoth was freed from its prison, and the Black Empire invaded Uldum, a Void-corrupted version of Isiset could be briefly seen in the Old God's vision of the Halls.
Adventure Guide
Isiset serves to regulate the arcane energies contained within, and produced by, the Halls of Origination. Legend has it that this construct has become enraptured with her own arcane mastery and the perfection with which it seemingly endows her.
Abilities
Strategy
Periodically, she casts Supernova. Everyone must face away from her at cast completion, or be blinded for 4 seconds. Healers can spend the entire duration of the fight facing away from Isiset (similar to Eadric the Pure).
At 60% Isiset splits into Astral Rain, Veil of Sky, and Celestial Call. After one dies, the other two vanish and Isiset reappears. However, she will not use the ability matching the name of the mob that you killed. Additionally, the two abilities that remain are stronger. Astral Rain is the most dangerous, and should be killed first.
At 30%, Isiset splits again into the two remaining abilities. After one dies, the other vanish, and Isiset reappears. This time, she will only use the remaining ability, but it will stronger yet again. It is more advantageous to kill Celestial Call at this point as Veil of Sky is easily dispelled.
Loot
Quotes
Aggro

Gaze to the heavens! What do you see?
Supernova

Bask in my radiance!
Killing a player
Insignificant!

The glimmer of your life, extinguished.
Death
Eons of darkness... by your hand.

My luster... wanes.
Videos
In Hearthstone

This section contains information exclusive to Hearthstone and is considered non-canon.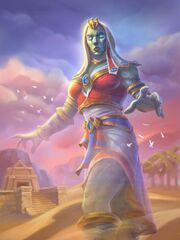 Isiset appears as one of the bosses that can be encountered in the Tombs of Terror adventure in the Saviors of Uldum expansion for Hearthstone.
The Conjured Mirage, a rare collectible card from the same expansion, depicts a projection of Isiset. The mirage's flavor text reads: "What you see is Isiset."
Trivia
Patch changes
References
^ a b  [110 - 120] 

Glittering Scarab
External links
| Cataclysm | Battle for Azeroth |
| --- | --- |
| | |