Jagged Abalone
Jagged Abalone

Start
End
Level
Type
Category
Reputation
Rewards

+1 Fishing skill
19 84 50 1

Repeatable
Objectives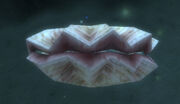 Harvest 9 Jagged Abalone Meat from the Jagged Abalone in Narsong Trench to the east.
Description
Pandaren have been harvesting jagged abalone in this area for generations. Now it's time for you to learn the ritual.
The abalone can be found just west of here in narsong trench. Be careful, we have noticed increased shark activity in that area recently.
Rewards
You will receive: 19

84
50

1

and 1 point of Fishing skill
Progress
Did you see any sharks down there?
Completion
Oh! Looks like you found plenty of abalone out there. Great job <name>!
Gains
Notes
On accept:
Fisherman Haito says: This spell will speed you up in the water. Just in case you run into a shark!
Haito casts Water Gliding: "Increases swim speed by 50%. Also allows underwater breathing.", which lasts for 15 minutes.
Head east to the Narsong Trench and dive in. Shells are on the ground and walls all over the trench. There are a few in Snapclaw's den as well.
Progression
Patch changes
External links