Jandria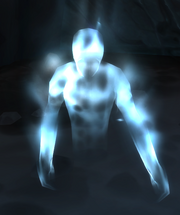 Jandria is a night elf priest trainer located in the Temple of the Moon in Darnassus.
During the Burning of Teldrassil, she was seen putting out fire. Ultimately, she refused to leave the Temple of the Moon.[1]

This section concerns content related to Shadowlands.
After her death, her soul ended up in the Maw, as a result of the machine of death being broken. While being imprisoned within the Tremaculum, she was rescued by mortals aligned with the Night Fae Covenant, at the urging of Ysera.[2] Following her liberation, she came to reside in the Heart of the Forest within Ardenweald.
Objective of
Quotes
Ardenweald gossip

Elune has not forgotten us. You, saving us, is proof of that.
I wonder if there is still a part for us to play, a duty to fulfill.
We must be patient.
See also
References
^  [110] 

From the Ashes...

^  [50] 

The Lost of Teldrassil
External links