Katherine the Pure
For other Katherines, see Katherine (disambiguation).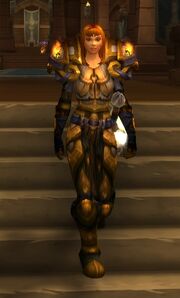 Katherine the Pure is a human paladin and paladin trainer located in the Cathedral of Light in the city of Stormwind. She serves to instruct hopeful paladins on the martial ways of the Light and can be found in the cathedral's eastern wing, in a room adjacent to the main hall, alongside fellow paladin trainers Lord Grayson Shadowbreaker and Arthur the Faithful.

This section concerns content related to Legion.
Following the death of Tirion Fordring, she joined the Silver Hand and is located in the Sanctum of Light.
Quotes
Non-paladin gossip
May the Light protect you this day.
See also
External links
| Stormwind City | Sanctum of Light | Sanctum of Light |
| --- | --- | --- |
| | | |