Kezan Socialite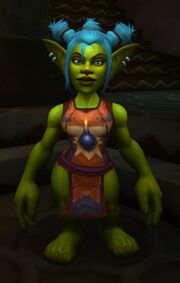 Kezan Socialites can be found at Gallywix's Villa in Kezan, enjoying the use of his pool and hospitality, at least while it lasts.
Quotes
Gossip
This is the Trade Prince's party, sweetie. Invite only!
Yeah? Whadya want?
I don't talk to no trash!
<Name>, right? Word of advice: don't let the Trade Prince catch you around here. He knows you're after his job.
Everyone knows.
You're not quite in my league, honey.
I didn't talk to you back in school and I'm sure not going to start now.
Yes. I'd love a refill. Fetch one and be quick about it.
That's an interesting... "outfit" you're wearing.
Oh, you're just disgusting! Why is it always the ugly ones that try to pickup on me?!
What are we calling you things these days? Brutes? Hobgoblins?
I can't keep it straight. Get out of here.
What smells around here? Oh, that'd be you.
Beat it!
I guess it's a good thing you brutes can't talk. Otherwise, I'd have to tell the Trade Prince how you annoyed me.
Now scram!
Oh no you did not just talk to me!
A mook?! I don't speak to brutes. How dare you!
Touch me one more time and I'll make sure that they send you to the Undermine!
You're big and strong. But you need a bath. Go jump in the pool.
Patch changes
External links