Krolusk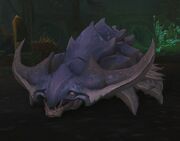 Krolusks are large insects[1] mainly found in Vol'dun. The sethrak of the Faithless rely on their krolusks for everything. They are mounts, battle companions, beasts of burden, and often even food to fuel the sethrak empire.[2] The jagged barbs of the saltspine krolusks have a slow-acting but powerful venom.[3]
Notable
Types
As a mount
Main article: Krolusk mounts
As a hunter pet
...
Trivia
The krolusk model is named "trilobite" in the files.
Gallery
References
^  [110 - 120] 

Poisoned Barbs

^  [110 - 120] 

Untame Slaughter
Creature group
Beast creatures

Amphibian
Bird
Feathermane
Fish
Mammal

Carnivorans
Cetaceans
Ungulates

Reptilian
Invertebrate

Arachnid
Crustacean
Insect
Mollusc
Worms

Other