Leeni "Smiley" Smalls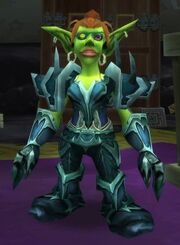 Leeni "Smiley" Smalls sells vintage Horde Mail and Plate PvP gear in Area 52 in the Netherstorm. In order to purchase from her you must have the appropriate Feat of Strength from the old PvP ranking system (eg:

[Legionnaire];


[Knight-Captain]).
Sells
Level 60 rare gear and Level 60 epic gear (Hunter, Shaman, Paladin, Warrior)
Relatives
| | |
| --- | --- |
| | This section includes speculation on characters that might be related, usually because they may share a last name. It should not be taken as representing official lore. |
She may be related to Tini Smalls.
Patch changes
Patch 4.3.0 (2011-11-29): Re-added with an updated model, selling vintage level Honor 60 gear instead of Arena gear.

Patch 4.0.1 (2010-10-12): Removed.

Patch 2.0.3 (2007-01-09): Added.

External links