Leorajh
Leorajh is a level 100 saberon found in the Spires of Arak. He was once part of the Bloodmane tribe, but was banished for being smaller and weaker than the others. Leorajh later found the cave, in which adventurers find him in, along with a sunstone that taught him many things.
Saving him from the arakkoa will make him want to join the hero's "clan". The path up the mountain starts[51.2, 65.3]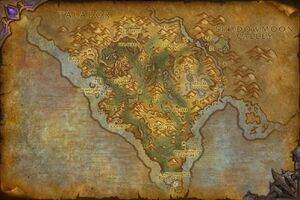 near Leorajh's Den.
An exiled saberon shaman, Leorajh expanded his mind with an Apexis relic and seeks new allies in need of his powerful healing arts.[1]
He can also be seen watching fights between garrison commanders in the Coliseum of Highmaul.
Abilities
Chain Lightning
Lightning Bolt
Purify Spirit
Wind Shear
Chain Heal
Riptide
Stealth
Quests
Spires of Arak
As a bodyguard
 [100] 

Fury of the Clan

 [100] 

Leorajh's Prayer Beads
Quotes
Frostwall
Gossip
New lessons today?
What teaching does commander bring?
Leorajh use sun rock, help clan.
Leorajh ready to learn.

 I need you to come on patrol with me.
On approach
For good of clan.

Leorajh up for anything.

What teaching does commander bring?

New lessons today?
As a bodyguard
Battle make us stronger.

Do not worry. Leorajh heal.

Furies on our side.

Leorajh bring glory to clan.

Leorajh heal clan.

Leorajh help!

Leorajh keep friends alive.

Leorajh make you hurt.

Leorajh meet you at home.

Leorajh ready for anything.

Leorajh up for anything.

New lessons today?

Sun rock help us!

Sun rock protects us.

This our territory!

We fight together.

Where we going?

You call Leorajh?

You die!

You no hurt master!

You not so tough.
Trivia
Patches and hotfixes
Hotfix (2015-06-26): "

Leorajh has regained the ability to allow players to access the Follower Missions menu while in the field.

"

Patch 6.0.2 (2014-10-14): Added.

References
^  

[

Follower: Leorajh

]

(spell)
External links
| NPC | Follower | Bodyguard | Faction |
| --- | --- | --- | --- |
| | | | |