Light Up the Gulch
Objectives
Torch the slave auction sites in Slithering Gulch.
West slave market burned
Central slave market burned
East slave market burned
 

[

Kiro's Torch

]

(provided)
Description
Don't mistake my caution for hesitance, <name>. I will defend the vulpera with my dying breath... I'd just prefer to avoid taking that breath today.
While Nisha rushes to the front line, I work behind them to ensure our success.
Meet me at the Faithless beast pens if you'd like to help.
Oh, and take this torch. You'll be going through their marketplace, where they auction off slaves.
Starting a few well-placed and metaphorically poignant fires along your route will make things easier for all of us.
Rewards
You will receive:
Completion
The fires are spreading quickly. Let's hurry, while the Faithless are distracted.
Notes
On accept, Kiro enters

[Stealth], moves up the ramp, and disappears.
Kiro says: I'll sabotage their cannons on the upper levels while you burn the gulch. Meet me at their best pens when you're done.
Head down east through the Slithering Gulch, throwing the torch at the Jars of Oil in the three slave markets along the way. You can also find a Tattered Note at [54.2, 34.2]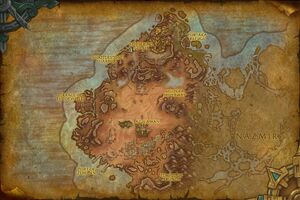 , which offers

 [110 - 120] Tattered Note.
When you're done, meet with Kiro on the ramp leading up to the Feeding Pits in the east. On complete:
Kiro says: The Faithless keep wild beasts penned in nearby. Looks like a good opportunity to me.
Progression
Patch changes
External links