List of Warcraft references in pop culture
This article contains a list of Warcraft references in pop culture.
Games
Bitcoin Billionaire (appstore)

An achievement called War of Worldcraft is achieved when owning at least 50 Video Game Industries.

The achievement name is an obvious reference to World of Warcraft but just swapping World and War.
Mass Effect

In the first mission on Eden Prime, Corporal Richard L. Jenkins dies in a cutscene because he rushes headfirst into a group of geth. (Video)
X-Men Origins: Wolverine

There is a hidden spot where you see a sword which looks very much like Frostmourne and has "Arthas" engraved in it. (Video)
StarCraft II: Legacy of the Void

An achievement called World of Warpcraft is an obvious reference to World of Warcraft. To earn this achievement, you had to destroy 6 Terran units as they are warped in during the "Dark Whispers" mission on at least Normal difficulty.
Terraria

In patch 1.2.0, a new weapon called the Icemourne was added to the game, resembling the Frostmourne. The weapon was later replaced in a new patch to avoid copyright infringment.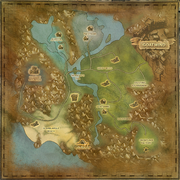 Goat Simulator

A DLC for the game which is a MMO that has obvious references to World of Warcraft.

Some users may call it, World of GoatCraft.
The Goatshire town is an obvious reference to Goldshire in Elwynn Forest.
The Goatwind city is an obvious reference to Stormwind City in Elwynn Forest.
The art style used for the maps is much like the WoW's maps.
As described on the main Steam store page:
Movies
Level up

One character always yells Leroy's famous battle cry before heading into battle.
A subtle reference is that the character screen is just an edited version of the World of Warcraft character list.
Zombieland

In the first part of the movie you see Columbus playing.
TV series
How I Met Your Mother

In Episode 6 of Season 3, Ted says he met a girl on the internet. It is later found that he met while her playing. At the end of the episode, an in-game clip in Stranglethorn Vale show a male draenei talking to and a human female, Ted is the human female. (Video)
In Episode 19 of Season 4, Barney says "All right chums, let's do this!" then he goes out the door while yelling "Barneeey Stinsoooon!". (Video)
How to Get Away with Murder

In Episode 8 of Season 2, Philip explains that he had a hacker alert set up because other gamers have tried to steal his conquest points because he had so many. Oliver clarifies it's World of Warcraft.
Nikita

In Episode 2 of Season 2 "Falling Ash", when Birkhoff and Alicia are discussing computer specs, Alicia mentions that she used to work IT, and knows her way "around Azeroth".
Stargate Universe

Eli compares carrying Chole, who has been shot in the leg, to carrying a full pack over the Redridge Mountains to Stonard. (Video)
Family Guy - Season 16, Episode 14: "The Guys Come Up With A Long And Elaborate Plan"
The Big Bang Theory

In the pilot episode Howard Wolowitz is seen playing for a short period of time. (Video)
In Episode 4 of Season 4, Howard and Bernadette have a fight because she caught him having cybersex with a female troll under the "Bridge of Souls" (which turns out to be a male co-worker)
Supernatural

In Episode 12 of Season 6, Sam is looking for terms such as fire, claws and gold. The results are the World of Warcraft fansites.
Shows
Songs
Categories
External links

Wowhead

 Pop Culture Item References: Video Games, Movies, and TV