Lookout Ungalra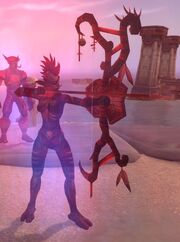 Lookout Ungalra is a skeletal troll roaming the central Port of Zem'lan in Vol'dun with a Soulspitter Cobra.
A Vision of Shredder Ungalra appears during

 [110 - 120] The Day the Port Fell as one of the pirates who held off a group of refugees that sought passage on Pirate-King Zem'lan's ships.
Abilities
Objective of
Quotes
Aggro
De curse makes us strong!

Dis be our port!

I've been defending dis port for countless years.

I've sacrificed everything for Zem'lan.

If you ain't part of de crew, you be dead!

No prey, no pay.

Your treasure... it be mine now.

Zem'lan don't suffer de living no more.
Death
De captain's... gonna hear about dis...

Dis land be cursed... we all are....

Heave me down, I be coming back soon...

Keep your hands off my treasure...

I feel nothing...

Scuttle your landlubber legs...

You'll answer... to Pirate-King Zem'lan for dis...

Zem'lan won't let us stay dead... dat's de real curse...
Patch changes
External links