Lorewalker Stonestep
For the strategy on the World of Warcraft encounter, see Lorewalker Stonestep (tactics).
Lorewalker Stonestep is a pandaren lorewalker in the Temple of the Jade Serpent.
Legion

This section concerns content related to Legion.
Lorewalker Stonestep's corpse is found during the Burning Legion's attack on the Temple of the Jade Serpent, slain by Belphiar.[1]
Locations
Quests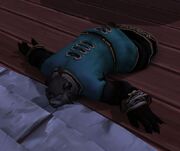 Quotes
Gossip
The scrolls! I must save the scrolls!
This library holds thousands of years of history and lore. The greatest knowledge in all of Pandaria is kept here.
That is why we must keep this great treasure safe.
Temple of the Jade Serpent

Main article: Lorewalker Stonestep (tactics)#Quotes
Patch changes
References
^   [98 - 110] 

The Trial at the Temple
External links